Valor Zero Clearance Linear Fireplaces
Widescreen displays - Valor performance.
What makes the Valor linear fireplaces unique is simple. We are the first widescreen gas fireplace designed to maximize heat performance in your home. State-of-the-art radiant heat technology and advanced comfort control separates Valor from competitor products based primarily on aesthetics and very minimal heat output.
The Benefits of Choosing a Linear Fireplace
Blending the latest in fireplace design with technical performance is what we do best. The Valor Linear Series showcases our experience with over a century of strategic product innovation.
Compatible for most room applications, the Linear Series is available in both one and two-sided formats. Each fireplace works in unison with a stunning collection of clean, contemporary surrounds.
Choose between the ever popular L1 Series (available in indoor and outdoor applications), the see-though L1 2-Sided Series to combine two rooms, the L2 Series or our largest fireplace yet, the L3 Series.
---
Valor's HeatShift System™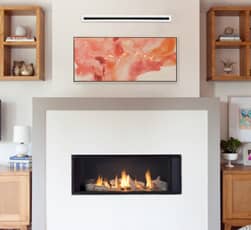 Recognizing homeowner needs and expectations is what separates Valor from the competition. Taking the concept of No Power, No Problem to the next level, Valor introduces a heat management system that redirects fireplace warmth to a higher elevation in the room.
Designed to reduce surface temperatures, the Valor HeatShift System is recommended when adding a wall mounted TV or heat sensitive material directly above the fireplace. In essence, raising the heat outlet dramatically improves conventional airflow - reducing wall temperatures and improving overall performance. Excess warm air is then circulated back into the room at a higher elevation.
Learn more about Valor's HeatShift System
---
Convert to an Outdoor Fireplace
You can now convert a zero-clearance Valor gas fireplace to a beautiful outdoor unit with our new Outdoor Conversion kit (GV60CKO) and take advantage of Valor's radiant heat outdoors.
Discover which of our fireplaces can be converted for outdoor use by browsing the entire program. Click here for more information.
---
Valor Zero Clearance Linear Fireplaces